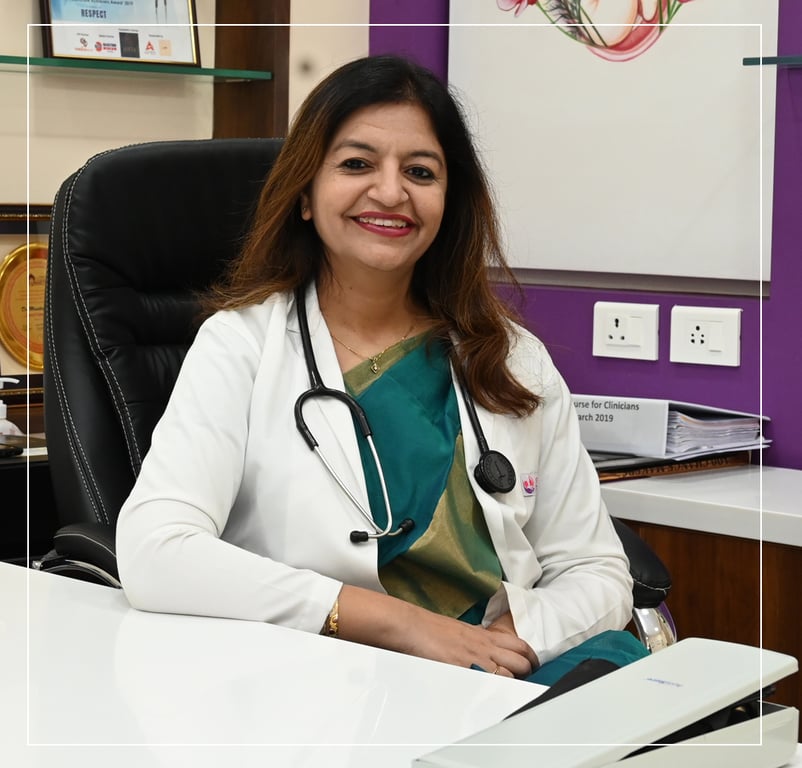 DR. MONIKA SHARMA
Education and Qualification
Dr Monika is a diplomat in Gynec Endoscopy From KIEL, Germany and completed her ART(Assisted Reproduction Technology) course for Clinicians from NUH, Singapore.In 2008-2011, she completed her fellowship in Gynaecology Endoscopy and Infertility under renowned Gynec Endoscopic Surgeon and Infertility specialist Dr Gautam Khastgir.
Dr Monika is a Gold Medalist MBBS from RNT Medical College, Udaipur(Raj.) in 1995-2000 followed by MS in Obstetrics and Gynaecology in the year 2002-2005.
Work Experience
Dr Monika has a wide experience in the field of Gynaecology and is one of the best Gynecologist in Udaipur. She worked as Senior Consultant Gynecologist and Laparoscopic Surgeon at GBH American Hospital, Udaipur for 10 years. Prior to that, she was serving as Clinical Associate at Batra Hospital and Fortis La Femme in New Delhi.
Professional Profile
Dr Monika is Director and Chief Consultant Gynecologist, IVF Specialist and Laparoscopic Surgeon at SPARSH Women Hospital, Udaipur.
Key Accomplishments
She has done successful removal of approx 1 kg fibroid with Laparoscopy Myomectomy. And also Laparoscopic Sacropexy in young third-degree UV Prolapse.
Speciality
Dr. Monika Sharma has expertise in IVF & Infertility, Laparoscopic Surgery, Obstetrics and Gynaecology

Our Vision
To develop a healthcare ecosystem where women of our society are treated with love, compassion and have a happy healthy life.
Our Mission
To provide advanced women/ gynaecological care in a responsive healing environment, improving the health and well-being of our community through Innovation and pursuit of Excellence.

Postitive Approach
We are powered by a can-do attitude and inspired by the opportunity to serve. We choose to be encouraging and confident, our best comes out in the most challenging situations.
Passionate
We are passionately committed to the services we provide to women, children and their families. We promote a listening, engaging and caring environment.

Our comprehensive range of women care services are designed to provide care from puberty through womanhood and old age. We focus on the treatment and diagnosis of entire gynaecology and reproductive health conditions, all common and advanced gynaecological surgeries including laparoscopic surgery for women of all ages such as fibroids, ectopic pregnancy, ovarian cysts, hysterectomy, etc.
We are equipped with world-class technology and state-of-the-art infrastructure, which caters for a host of infertility treatments like IVF (In vitro fertilization), Cryopreservation, ICSI, IUI, Blastocyst culture and transfer, Laparoscopy, Hysteroscopy and donor programs.
24 /7 Emergency Services
Our team of highly skilled doctors, supported by trained physiotherapists, nurses, staff, admin and security, work tirelessly to provide reliable and quality care.
Wide Range of Treatments
One Stop Comprehensive solution for women of all age with state of art technology
Passionate Doctors & Staff
Our experienced Gynecologists, Obstetricians, Neonatologists, Paediatricians and other subspecialties will guide you at every step through the process of your pregnancy and parenthood.
Safe & Sanitised Environment
International standards of safety protocols that help us deliver a safe as well as high quality treatment experience to every patient, every single day, every single time.