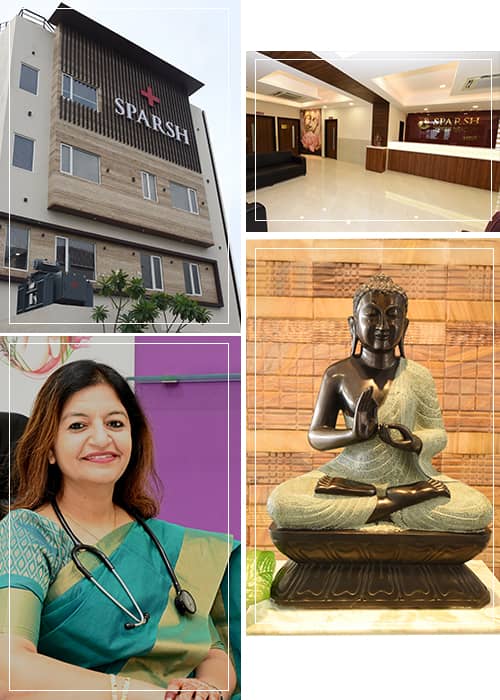 Centre of
Excellence for
Gynaec Laparoscopy & IVF
A decision to have a baby is both powerful and magnificent. It is a choice that allows an experience where you submit your mind, body, and heart. And it is their tiniest feet which create the greatest footprints in our hearts.
Every couple wants to shower their love on their kid. Many couples are challenged by infertility due to one or another reason. We understand that nobody can fulfil the void of a child in a couple's life. At Sparsh IVF, a Unit of Sparsh Women Hospital, we understand the importance of a baby in the lives of couples facing fertility problems and thus provides world class treatment options to bring joy in the lives of such couples. Sparsh Women Hospital, First and only dedicated women-centric hospital of Southern Rajasthan with state-of-the-art infrastructure and facilities for infertility treatments and advanced gynae laparoscopy was established in the year 2019 by Dr. Monika Sharma Khandelwal, a renowned IVF expert & gynaecologist in Udaipur.
Expert HealthCare Team
Expert team of obstetrics has enough expertise to Take care of the pregnant women, the unborn baby, labour and delivery and the immediate period following childbirth.
Medical Expertise
Our comprehensive range of women care services are designed to provide care from puberty through womanhood and old age. We focus on the treatment and diagnosis of entire Gynaecology and Reproductive Health conditions.
Latest Technologies
Technology-driven, distinctive and efficient care delivery is the cornerstone of our Success. To achieve this, we leverage novel technology, and proven protocols complemented by robust infrastructure

Our Vision
To develop a healthcare ecosystem where women of our society are treated with love, compassion and have a happy healthy life.
Our Mission
To provide advanced women/ gynaecological care in a responsive healing environment, improving the health and well-being of our community through Innovation and pursuit of Excellence.

Postitive Approach
We are powered by a can-do attitude and inspired by the opportunity to serve. We choose to be encouraging and confident, our best comes out in the most challenging situations.
Passionate
We are passionately committed to the services we provide to women, children and their families. We promote a listening, engaging and caring environment.

Our comprehensive range of women care services are designed to provide care from puberty through womanhood and old age. We focus on the treatment and diagnosis of entire gynaecology and reproductive health conditions, all common and advanced gynaecological surgeries including laparoscopic surgery for women of all ages such as fibroids, ectopic pregnancy, ovarian cysts, hysterectomy, etc.
We are equipped with world-class technology and state-of-the-art infrastructure, which caters for a host of infertility treatments like IVF (In vitro fertilization), Cryopreservation, ICSI, IUI, Blastocyst culture and transfer, Laparoscopy, Hysteroscopy and donor programs.
24 /7 Emergency Services
Our team of highly skilled doctors, supported by trained physiotherapists, nurses, staff, admin and security, work tirelessly to provide reliable and quality care.
Wide Range of Treatments
One Stop Comprehensive solution for women of all age with state of art technology
Passionate Doctors & Staff
Our experienced Gynaecologists, Obstetricians, Neonatologists, Paediatricians and other subspecialties will guide you at every step through the process of your pregnancy and parenthood.
Safe & Sanitised Environment
International standards of safety protocols that help us deliver a safe as well as high quality treatment experience to every patient, every single day, every single time.